As we now have several thousand photographs covering everything from brochures, literature, historical images and a vast array of tools and machinery saved in the memory of the website we thought it would be a great idea to put them all in one place and into individual manufacturers galleries so that you could access them easily for a great reference resource.
Can you help fill in some gaps in the gallery? 
Currently there are 10349 images in the galleries of many different makes and models, but there are some gaps and no doubt some obsure makes we have yet to catalogue. We welcome any additional members photos to help us progress this massive archive of UK machinery.
Images can be sent to the archive at 
VHGMCPhotos@outlook.com
. Please give some details of the machine, make, possibly age and any other info you think necessary. We will include the photos in the relevant gallery and give credit to you the photographer. 
*Please Note*
Any direct messages regarding machines/makes/models are best posted in the
forum
for best exposure and members to answer.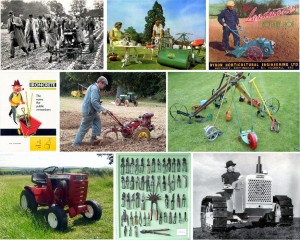 General Reference Galleries:
Hand Tools
Seed Drills and Spreaders
Sprayers, Misters and Dusters
Trucks and Carts
Ride-On-Mowers (4 wheel)


Advertising Literature


Uncategorised
Individual Makers Galleries:
Acre

Agria

Al-ko 

Allen Roper

Allen – Scythe

Allis Chalmers
Allman
Andrews Lawn Edgers LTD  
Ariens

Atco
Autobarrow

Auto Culto – Allen & Simmonds
Barford

Bartrop – Greenfield

Batric

Bean
Beeman
Belarus
Benford
Bernard
Black and Decker

BMB
Bob Andrews Garden Machines LTD

Bolens
Bonser

Bristol

British Anzani – Mowers
British Anzani – Cultivators and Tractors 
British Holder Tractor

Brott

Brouwer (turf equipment)
Buffalo Tractor

Byron

Capco Fieldrider
Carterson
Case – JI Case
Coverella Mower

Coleby
Collins – Bracken Cutter
Colwood

Clark TrucTractor 

Cletrac
Clifford
Cox
Crawley
Cyclo – Motor Scythe
Cyclone
Danarm

David-75 

David Bradley
David Brown
Deckson

Dennis
Douglas Auto Gapper

Dowdeswell
Dron-Wal

Dynamark

ElecTrak
Emery
Fahr
Farmers' Boy

Farmfitters

Floataire
Four Oaks

Flymo
Folbate

Ford

Garner
Geest
Governor – John Shaw and Sons

Gravely
Greenfield 

Green's – Mowers

Greensleeves

Gutbrod – Motostandard
Gunsmith
Hayter

Henderson – Bracken Cutter
Hinomoto
Holder
Homelite

Honda
Horwool

Howard

Huffy
Huttenwerke (track-laying)
Ideal Power Lawn Mower

IH – Cub Cadet

Ironcrete
Irus
Iseki

Jacobsen
Jalo
Jobber

John Deere
JP – Mowers
Kendall

Kincade
Kubota
Ladybird

Landmaster

Lawnboy

Lawnflite
Lister
Little Wonder

Lloyd – Autoscythe
Lloyds & Co – Mowers

Lombardini

M & G Seed Drill
Malcolm Martin Trucks LTD

Mallard Trucks

Martin Markham

Massey Ferguson
Mayfield

Mayfield – Merlin
McCulloch

Merry Tiller
Micronette

Minneapolis Moline 

Mountfield
Mowett Mustang 

MowRite
Monro

Multi-Gardner

Murray
Mysto

Nash
Nickerson

Norlett
Opperman

OTA

Pacemaker – Mower
Pasquali
Pennsylvania

Planet