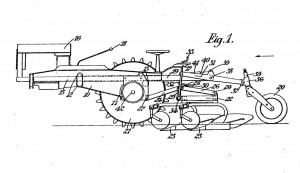 When we all acquire a "new" machine, the first thing in the back of our mind is to find out some history of the brand; next we wish to find out some of the history relating to our own particular machine. That is the purpose of this section, so that members can see quickly where their own machine fits into the history of the brand, we can date it for them and record their own machine's details on the register so that a more complete picture of the surviving machinery can be made.
Similarly, it is only by compiling lists such as this that the development of the machine may be tracked and trends can be seen that link vital facts together.
Please use the contact links provided to send an email to the relevant register if you wish your machinery to be included. As you can see, no personal details are given, so if you haven't told the missus about your latest purchase under the sheet then fear not- she won't find out from here!
To access the information that you are looking for please click on the relevant link below.
Trusty Steed Register
Trusty 2-Wheeled Tractor Register

Trusty Imp Register
Trusty Earthquake Register
Monro Tiller Register
Garner 2-Wheeled Tractor Register

Garner 4-Wheeled Tractor Register

Ransomes MG Register