On this page you will find details about some of the features and differences of the three models of Monro Tiller made by George Monro of Waltham Cross from 1951 to 1965. After 1965 Mechanised Gardening at Great Gransden, Bedfordshire, produced their own version using different engines and other modifications.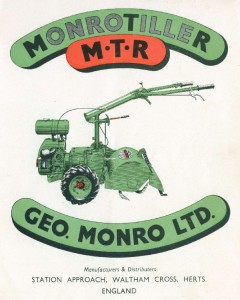 Monro Tiller, Series 1.
Geo Monro were already manufacturing garden machinery, eg Rototiller 56 and Rowtrac 5, when the Monro Tiller, designed by Harry Shickle, was introduced in 1951.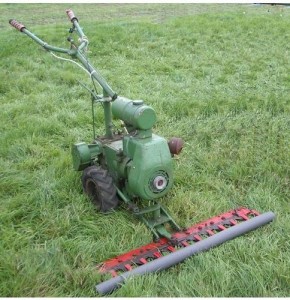 The series 1 is easily identified by the tubular steel mount for the handlebars, the series 2 and 3 have a heavy casting on top of the gearbox. The series 1 was powered by a Villiers Mk10 four stroke engine, or an optional Villiers 2 stroke engine, driving through a 2 speed gearbox. The wheels were cast aluminum and are prone to damage. Ratchet hubs were optional and the wheels were not reversible, spacers were used to give the wider track required for the fitting of the cutter bar. Another identifying feature of the series 1 is the gear change lever mounted on the back of the gearbox, (some early series 2's also had this).
Production ran from March 1951 to December 1952 with approx 1300 machines made in this time. Serial number should be located on the brass plate on the front of the engine cowl. 
January 1953 saw the series 1 Monro Tiller replaced by the series 2. Having the same basic layout there were a number of changes, the most noticeable is the heavy casting to support the handlebars instead of the steel tube used on the series 1. The engine was also changed; a Villiers Mk 12 rather than the Mk10. Wheels are steel and have an off set making them reversible to give alternative track widths. Ratchet hubs were standard. All controls are on the handlebars with cable running inside handlebars and cast mounting. Some examples still had the gear change lever on the back of the gearbox as on the series 1.
Production ran from Jan 1953 to April 1964, approx 3900 produced.
In November 1955 the Monro Tiller series 2 was joined by the series 3. The series 3 had a more powerful Villiers Mk 15 overhead valve engine. The series 3 gearbox gained an extra gear making it a 3 speed machine, with the gear lever on top of the handle bar support casting. The series 3 also had reverse gear, which worked in all gears giving 3 forward and 3 reverse, this was operated by a clutch like lever on the r/h handlebar. The reverse gear mechanism is mounted on the l/h side of the gearbox.
Production ran from 1955 to 1965 with a run of approx 4500 machines.