Equipment on sale in…..1964
November 6, 2016 in Articles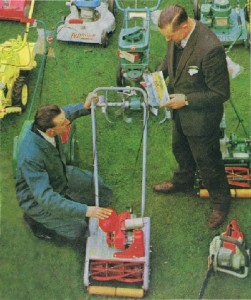 To set the scene and waken some memories 1964 was a notable year as it was when BBC2 started broadcasting, Daihatsu began importing cars into the UK (the first Japanese manufacturer to do so), Donald Campbell was setting world speed records in Australia and the Mini Moke a fun vehicle for the era and built by BMC in Longbridge hit UK roads. 

We've also chosen 1964 as there's a vast range of adverts from that time when horticultural machinery was progressing and developing. From the ever-popular Merry Tiller, the Auto Culto, Bolens Husky and Spraygen to more unusual machines like the Remington 'Speed Till' and the Pulvo lawn aerator. 

The 1964 image, above right corner, shows an array of machinery with an unsure customer potentially dithering over buying a lawnmower, the pros, the cons, a wise and worthwhile investment in choosing the right machine and a million miles away from some of the short-lived (nay disposable) machinery of today.

Incidentally, can anyone identify the mower the salesman is trying to sell? 

These following adverts are all from 1964 and shows a small selection of equipment available from secateurs to ride on mowers and each of them vying for the customers attention.

Click on the adverts for larger images.