Annual General Meeting 2014
March 13, 2014 in Club News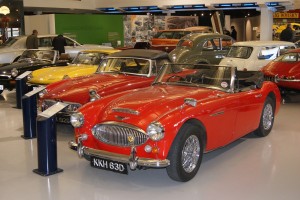 The VHGMC always has it's AGM on the second weekend in March. Memberships run from 1st January through to 31st December, so we can't have the AGM much later in the year because it would be largely meaningless. Similarly, if we had it in January then it may even be snowed off, so the compromise is March.
This year we decided to re-visit the old formula of hiring a room at a popular venue and allowing free entry to the venue for all members attending the meeting. I think most of you will know of the British Motoring Heritage museum at Gaydon which was originally put together by British Leyland; it now has been expanded to cater for all British makes and it really is a museum with no equal anywhere in the world.
Many of the exhibits are prototypes or one-offs made for a specific purpose, interspersed with production cars from all eras. It really is a venue that appeals to all walks of life with exhibits from Jaguar and Land Rover standing side-by-side with cars from Austin, Morris, Triumph and MG to name but a few. Of particular interest to myself was the display of MG record-breaking cars which rose to fame in the 1930's and into the 1950's; one of these was EX135 which took speed records in the 350cc class, 500cc, 750cc, 1100cc and 1500cc by ingenious use of a single, six-cylinder engine. To achieve the smaller capacities it was run with just two pistons, then three, and to achieve the record in the 1500 class it was bored out to just over the 1100cc size, so it was sacrificing nearly 400cc's and it still achieved over 200mph!
 Everyone attending showed their appreciation at the end of the meeting, and one or two even brought machines to swap in the car park. It looks like next year's venue may be already sorted out!