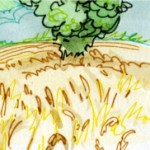 vhgmcbuddy
Member
Hello,
i'm from Switzerland and unfortunately I don't speak english!
To the Pictures: this is a license of a Grunder Tiller (built by Grunder & Co Binningen / Basel, Switzerland from 1917 untill to 1925), and the Engine seems (license?) M&V: Müller & Vogel St. Aubin, Suisse.
I have two machines, not complete (see photos).