March 11, 2017 at 10:28 am
#24713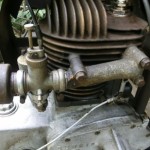 wristpin
Participant
For one off purposes a bit of plain bar with no centre screw will do. Slacken the flywheel nut a turn or two and put the pressure on by either tightening the two bolts screwed into the fly wheel or use studding with nuts and tighten the nuts bit at a time.
Be aware that being of US origin, the tapped holes in the flywheel will be UNC thread and not metric.
The page 10.1 of the Dropbox file that I attached to my post has a not entirely accurate drawing of a "posh" puller with a centre screw – it should show a bit of crank protruding from the flywheel.