Then and Now – 1910
April 29, 2018 in Articles
Our latest Then & Now picture is from 1910 and features Ashton's of East Sheen. The sign in the window announcing the stock of Garden Tools & Requisites and the array of merchandise on the pavement tells us that they probably stocked everything the early 20th century gardener could want.
The image is typical of many shops from that time. Ashton's featured an expensive curved glass window on the corner, the thermometer  on the wall to the left of the image, the lamps hanging on elegant supports and the impressive sign writing to catch the eye – one would like to think this was a shop of some quality.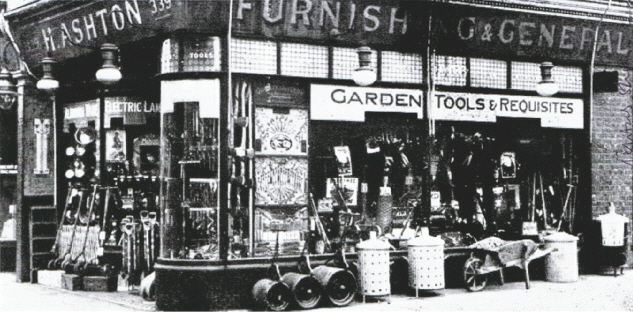 The items on display include wooden D handled spades by the entrance, incinerators (of the same design of today), a display of hand tools in the window along with wire netting and seed adverts. The timber wheelbarrow looks a beast with a steel-rimmed wheel and even if some person tried to schlep it away down the street they'd no doubt be out of breath after a couple of hundred yards. 
The lawnmowers and particularly the rollers are of interest. I'm guessing they may have been manufactured by Thomas Green & Sons who were at the New Surrey Works, Southwark Street, London about a ten mile distance from Ashton's shop. 
But long gone is Ashton's, little did they know that a century later their wares would make an awesome horticultural display at a vintage show: They'd have thought we were mad!
And now the shop is a fast food outlet as in the image below.