May 15, 2014 at 11:26 pm
#8098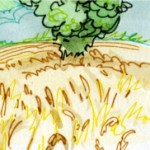 vhgmcbuddy
Member
Hello I new to the forum and mini tractors, so be gentle with me!
Here's my little Allen Superior based on a gutbrod 1030 with a few of its toys(see photos), there's a front bucket, forks, hydraulic pump and frame, hydraulic arms, a rotavator, snow plough(grader) and a sprayer and finger mower not in the photos.
I'm the third owner, the tractor was bought second had by my father and kept in v good condition, unfortunately it was lent to someone who kept it for 18 years in very poor way and it is now in the condition you can see in the photos.
I understand that the hydraulics should fit despite them never being fitted.
I've had it started today in a cloud of white smoke. There may be some water in the fuel, or it may have oil getting passed the piston rings, hopefully its just because it hasn't been run for a while and the oil has leaked through.
I have a mountain of questions to ask, as I would like to get all the bits working, here's a few just to kick things off.
Few I'm in the market for a mower deck for it if anybody knows of one. Failing that either a bodged one from a different machine if anybody has any suggestions, or a pull one of some kind.
Also what size battery should it have, or what fits?
How loud should it be? Its exhaust the worse for ware which doesn't help but it is very very noisy at the moment, where is the best place to buy a replacement exhaust?
Thanks for any help
Jon