February 25, 2014 at 9:11 pm
#6028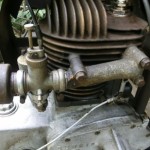 wristpin
Participant
Iseki never had a presence in the country but relied on importers to sell their wares over here; the current importer of Iseki is Ransomes Jacobsen in Ipswich. They confine themselves to the tractor range and diesel ride-on lawnmowers to sell alongside their own professional grasscare machinery and if you were to ask them about rotavators I pretty sure they wouldn't have any knowledge whatsoever (sorry).
I wouldn't be too hasty in writing off Ransomes as a source of info about Iseki cultivators as that is where my photocopy parts lists came from 3-5 years ago but it could well depend upon to whom you get to speak to.
Can confirm that Lely did handle some Iseki stuff – we bought brush cutter from them – but can't confirm whether or not they handled the cultivators.