February 25, 2014 at 9:13 pm
#6029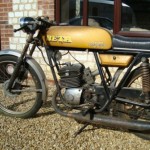 stuart
Participant
I dont know what should be there John as i cant find a good enough Google image of a KS280 showing the handlebars / swivel area.
I think the KS280 has an alloy plate riveted somewhere on the handles giving the model number,engine type and machine serial number ??.Maybe you can confirm if this is on yours ??.
This is the only photo i took of my smaller AC-2 showing the handles which as you can see has a large decal on them.