March 15, 2014 at 7:53 pm
#6454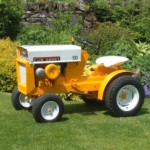 alan
Participant
I always thought it slightly odd that my Elec-Trak doesn't actually say 'General Electric' on it anywhere like all the others around the world.
So today curiosity got the better of me and I decided to investigate the steering wheel which had a basic silver sticker in the middle. And to my surprise under the sticker is a red and silver General Electric logo which I photographed, below.
Also the ID plate (see photo) has been cut in two removing the General Electric logo and info. The GE logo has been removed from the front grille and replaced with a dealer sticker, and the 'General Electric' words and logo on the fender sides have been substituted with just 'Elec-Trak'.
I guess that the reason is that Mountfield sold the Elec-Trak as one of their own products, it is always described in UK marketing as the 'Mountfield Elec-Trak' and not 'General Electric Elec-Trak'. So all GE details have been removed from the tractors.