Mr Rollo and his Croftmaster Factory – 1955
July 13, 2017 in Articles, Machinery
Scottish Tractor World Show
in Edinburgh in March 2018.
According to newspaper archives from 1955 the original, basic idea for the Rollo Croftmaster tractor was initially conceived and "ideas put on paper" three years earlier making it a light bulb moment somewhere in 1952. 
That ligh bulb moment was not only to create a small, capable and affordable tractor but also a way to help Scottish crofters. There is an excellent newspaper article (below, right)  from March 1955 which explains all and partly quoted with other newspaper sources comprises:
"
For years Mr John Rollo, O.B.E.,  had turned over in his mind ideas for helping Scots crofters. He had seen the acres of barren countryside in the Highlands and the primitive means of cultivation.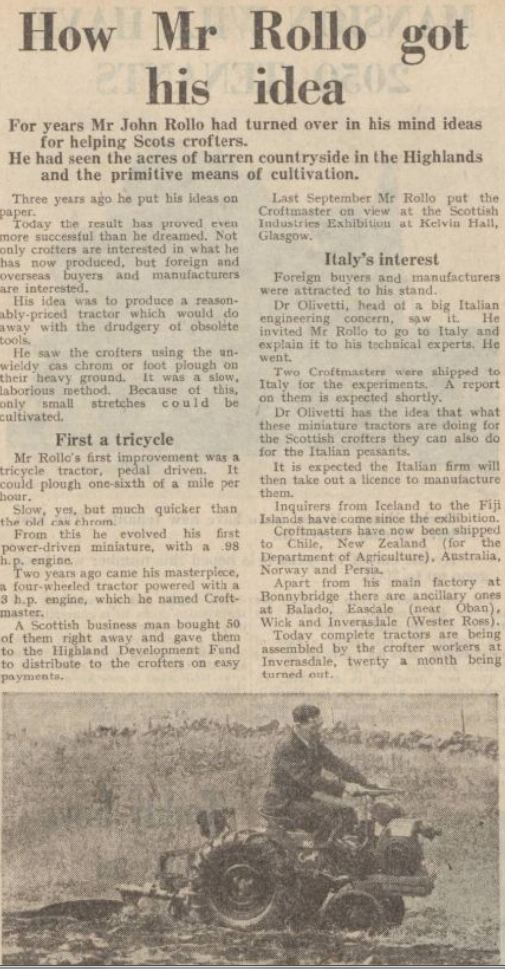 Mr Rollo's first improvement was a tricycle tractor, pedal driven. It could plough one-sixth of a mile per hour. It was slow but much quicker than the old ploughs that were being used.
"
From this evolved a power-driven tractor with a .98hp engine. Then two years later a four-wheeled tractor powered with a 3hp engine, which he named Croftmaster. (Another newspaper quotes that the Croftmaster could plough an acre of land on two gallons of petrol)
A Scottish business man bought 50 of them right away and gave them to the Highland Development Fund to distribute to the crofters on easy payments. Apparently these tractors were offered at cost price (no profit) with no deposit and five years to pay with the cost being £190 each.
In September 1954 the Croftmaster was put on display at the Scottish Industries Exhibition at Kelvin Hall, Glasgow where foreign buyers and manufacturers were attracted to the stand. Dr Olivetti (of typewriter fame) was keen to have the Croftmaster in Italy to help the farmers there just as had been done in the Highlands of Scotland. Consequently two Croftmasters were shipped to Italy for experiments. Crofmasters were also shipped to Chile, New Zealand, Australia, Norway and Persia. 
From a  separate newspaper article in 1954 it is reported that a "
Rollo tractor with ploughing fittings was also bought by a representative of Bechuanaland, who also supplied the names of six chiefs there and in Basutoland who would be interested in a machine of this kind
."
At the time of writing this in 2017 there is no remaining evidence of Croftmasters anywhere but in the UK and Ireland. Anyone know anymore?
The most interesting part of the newspaper article is the last paragraph which tells that "
…complete tractors are being assembled by the crofter workers at Inverasdale, twenty a month being turned out
". Note that Croftmasters were also built elsewhere, but here we look at the Inverasdale factory.
This is where the human element comes into any story. It's not the machine as such but the people who worked on the machines, the job they went to everyday, and any remaining information can be fascinating. Photographs exist of the Inverasdale factory. There are some images on the internet but the VHGMC have their own images from archives. 
The Inverasdale factory, images below, although just a small operation, was housed in a prefabricated asbestos building on (according to newspapers) an existing concrete base left from wartime activities. The image below from 1955 shows the inside of the factory producing tractors for the Scottish crofters with John Rollo at the front-right on a visit to the factory, this factory not only produced tractors but gave work to local people which is something John Rollo was very keen to do. A 1955 report says that a tractor demonstration (photograph at bottom of page) at Windyedge Farm, Perth, used two tractors one being 3hp and the other 5hp, both made at Inverasdale. The other workers are left to right: Jackie MacLean, Norman McIver, Unknown at back centre, Johnnie MacPherson on the right. This is a fantastic image and probably isn't too far removed from VHGMC members repairing or restoring machines in their sheds and garages!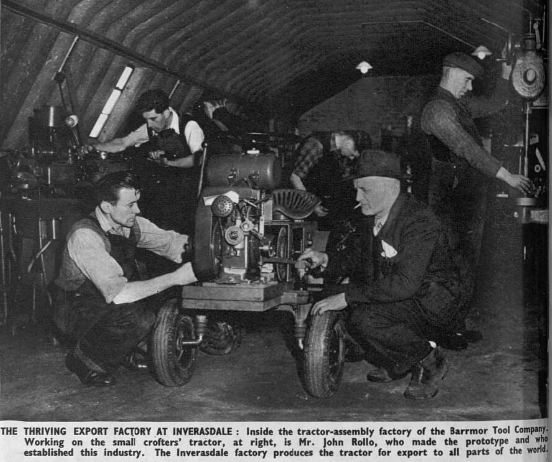 The factory was on a farm run by the Matheson family at Firemore near Inverasdale on the west coast of Loch Ewe in Wester Ross. The following image again from 1955 showing the outside of the factory makes it look exposed although the location is picturesque in good weather.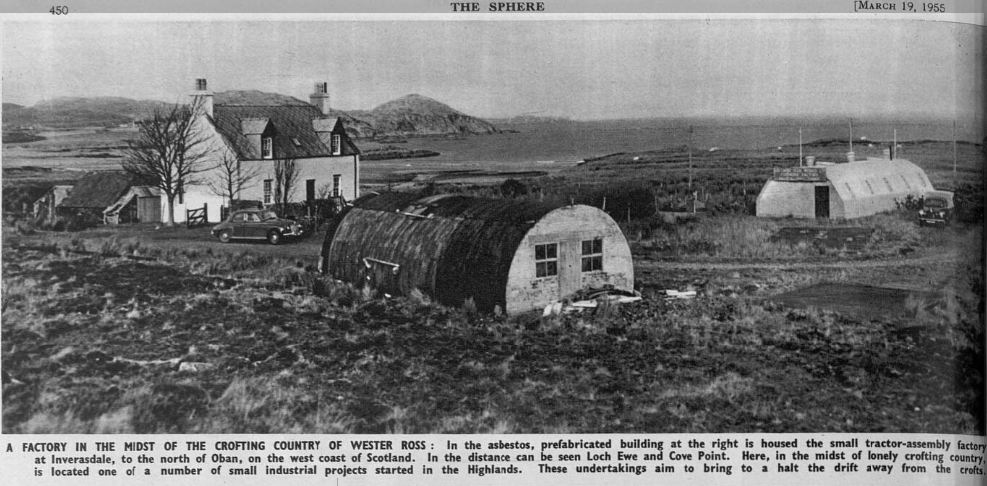 The factory building on the right of the last image still exists although the location with trees looks different 60 years later: It is now hard to imagine the tractors being produce here and the work that went on.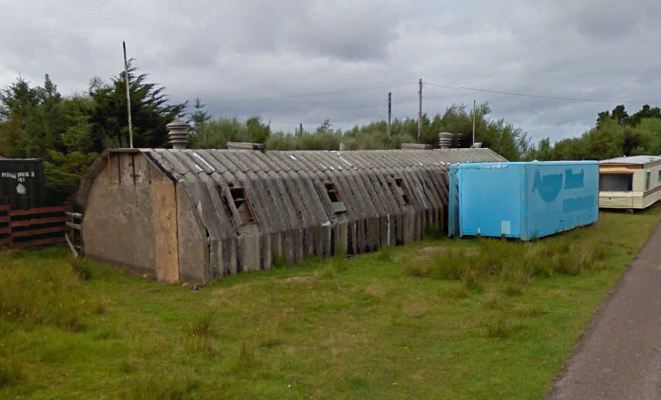 There is also a 1955 video containing a little information about the factory and the tractors: 
https://youtu.be/CaOwJ1uOY3E?t=9m9s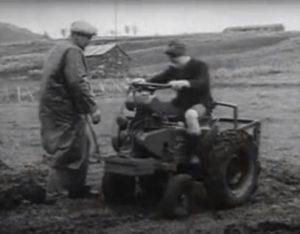 If anyone knows if Rollo Croftmasters exist outside the UK and Ireland then let us know and we can correct this article!

Also, is anyone entering a Croftmaster for Tractor World Scotland in Edinburgh in March 2018?

Additional: We have now found a photograph of the tractor ploughing at Windyedge Farm, Perth in 1955. The tractor has it's name on the front bumper section so obviously it was also a publicity event with photographers and reporters.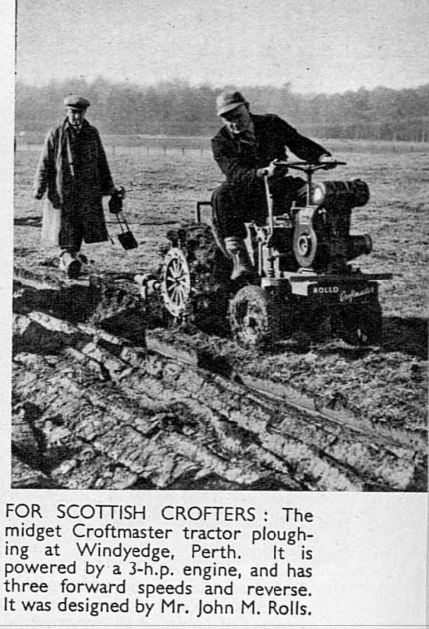 Another addition is this BSA engine advert from June 1957. Note that there is another tractor ploughing in the field so this is more than likely a ploughing demonstration attended by several manufacturers.
We are sure that many members would be able to recognize a Rollo Croftmaster tractor? Although rare, I am hoping that there will be one or two at the