Trademarks & Logos of the 21st century.
Manufacturers of Sprayers, Sprinklers, Syringes, Powder Blowers / Dusters, Rubber Hose & other water related products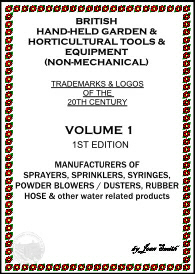 This 58 page book was meticulously researched, written and compiled by VHGMC member Jean Smith who has offered it as a free download to paid Club members. The VHGMC will be forever grateful for Jean's research and generosity in making this book available.
This book and it's download links is only available to paid club members.
Please log into your website/forum account to view the download links on this page. Note: You may have to navigate back to this page once logged in. 
Example Pages: