March 30, 2014 at 1:55 pm
#7037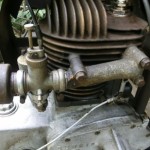 wristpin
Participant
Can't argue with that-always assuming that the sticker is original!
Personally I would still go for SAE30 in a worn engine of that age.
The starter pulley looks as though it is home made – is it made from wood? We used to see a few 14s and 16s in the late 70s and early 80s and I remember that the recoil starters seemed to be a bit fragile but maybe only because the engines were worn and the starters were taking a pasting!