February 25, 2014 at 2:23 pm
#6025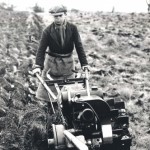 trusty220
Keymaster
The Iseki brand is still going strong in this country despite having a huge loss in the tsunami a couple of years ago.
Iseki never had a presence in the country but relied on importers to sell their wares over here; the current importer of Iseki is Ransomes Jacobsen in Ipswich. They confine themselves to the tractor range and diesel ride-on lawnmowers to sell alongside their own professional grasscare machinery and if you were to ask them about rotavators I pretty sure they wouldn't have any knowledge whatsoever (sorry).
Like most of these worldwide manufacturers, Iseki make a vast range and the importers just cherry-pick what they want out of the range. In the past they have made walk-behind rotary mowers and strimmers as well as rotavators, and some of these have even been brought in by previous importers. My spies tell me that the rotavators were originally imported by Lely when they were based at Huntingdon, and also that there were a lot of "grey imports" floating around at the time as well. Apparently some unscrupulous (unofficial) importers would sell rotavators with rice blades on which are absolutely useless in this country.
The blades that you have on your machine look a little like Landmaster ones- could it be possible that someone has adapted some of these to fit?