May 5, 2014 at 8:03 pm
#7899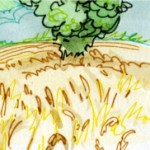 vhgmcbuddy
Member
Excellent progress.
Flywheel removed after locking crank with a bit of old wood – what a clever arrangement for splitting a morse-tapered shaft.
Back plate with all electrical bits on removed ready for investigation. I'll probably renew all the bits, but it does seem a shame to lose that lovely original Villiers coil.
So obviously, the position of the flywheel on the crank sets the timing. Is there a set-up guide somewhere to help me reposition it on assembly?
Thanks for all the advice so far,
Jim
PS – I also have the option to get hold of 2x Howard GEMs. Are these worth having?