December 19, 2019 at 5:09 pm
#32930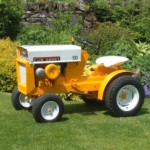 alan
Participant
I've just had a look for the Holttum-Howard 700 and I can only find one online magazine article mentioning it. The article is just a short mention in 1959 but does have prices.
"A third wheel attachment for the Howard 700 now converts it into a three-wheel light tractor. The attachment has been developed by H. B. Holttum and Co Ltd. of Cambridge The third-wheel unit is available as an attachment to an existing Howard 700, or alternatively as the Holttum-Howard 700 three-wheel tractor complete. Estimated retail price of the complete unit is £260. Conversion unit is £60, plus driving wheels, wheel extensions and bumper bar. A special drawbar will retail at £8"
The company ceased trading in early 1963 so that gives a short timeframe of only a few years, that is assuming that Holttum was manufacturing them.
Interesting their address in Cambridge at the same time is the same as the Dorman Sprayer Co. Ltd.