December 14, 2019 at 10:57 am
#32828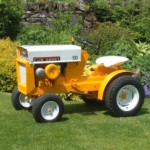 alan
Participant
It does remind me of the Valor Ironcrete mower from the late 1960's onwards, called the 'twelve plus' or something. I have a photo somewhere, though I recall that my photo shows an orange mower with a Valor decal on the corner of the grassbox. They possibly made a battery version in the 1980/90s which might have been the orange one…?
Valor Engineering LTD, Birmingham.
Whether or not it's a Valor, it's a pretty standard machine of the time of which others made similar machines, monetary value not massive but a tidy machine if in working order.