November 12, 2019 at 5:10 pm
#32615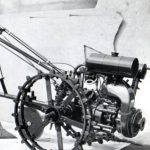 ssorthiek
Participant
The Coleby is really starting to take shape now. There have been quite of few issues on the way including gearbox cracks, cab problems, broken engine governor, sometimes a less than understanding wife (although she is understanding most of the time).
One of the biggest problems I have had with the engine is getting it started without petrol. I can tug at the pull cord all I like without petrol and she just won't fire! Three times I've tried this. They say you live and learn.
I managed to get down to Newark and bought a new WICO series A for spares. I should be able to get the other up and running soon.
Pictures will follow again soon when there is a bit of sun. I'll hopefully be showing this again next year at a couple of shows but it does get expensive hiring a van for a weekend.
That'll do for now I guess.