July 18, 2017 at 8:15 am
#25937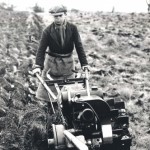 trusty220
Keymaster
The one thing that is worth trying is to re-set the governor. Some people used to set it to increase the revs under load to offset the effect of blunt cutting cylinders, so you may have been the victim of this bad practice.
It is a simple setting to make but you need three hands. With the engine stopped, key out of ignition and handbrake applied, follow the governor rod down from the throttle butterfly to the governor arm. On this arm you will find a small clamping bolt which you must undo. Hold the throttle into the fully open position on the carb and note which way the governor arm turns to reach the fully open position. Insert a small, slotted screwdriver into the slot on the end of the governor shaft and turn the shaft in the same direction until you feel a stop, then tighten the clamping screw to fix the arm to the shaft in this full throttle position.
After this the governor should pull the engine down to tick over if the governor is working correctly.
Best of luck.