June 15, 2017 at 10:17 pm
#25633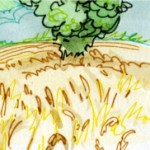 vhgmcbuddy
Member
Thank you as always for the useful replies.
I have checked the exhaust port which seems fine and I also ran it for a minute with no exhaust – still the problem persists.
I took off the carb and the main jet did indeed look blocked – cleaned it out and I could see light through it and thought that would solve it, but still no change.
Yes, I was going to ask about the govenor, as I read about this and noticed it when setting the points. Will try it under load (I have a big patch of stingers and brambles to try it on) and let you know if there is any change under load.
Thanks, Ben.