June 12, 2017 at 9:41 am
#25583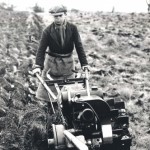 trusty220
Keymaster
It's good to see a rally organiser that has a creative streak. Lots of different sections imaginatively laid out so that it keeps the visitors' interest going.
Long lines of tractors don't look appealing to anybody, but when they are parked in circles under trees or in little groups spread about the field, or a Porsche car parked next to a Porsche tractor, it shows that more than a little thought has gone into the layout.
I'm kicking myself that I missed it! There's always next year, though.