May 17, 2017 at 2:23 pm
#25255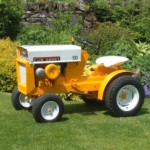 alan
Participant
Thanks for the question.
The database is held securely and also since the site doesn't take payment details – they are securely processed by Paypal – any security risk is on a par with any other website.
As a reminder to all, we do advice members not to post their email address or phone number on the website. It also reminds me that years ago we were asked if we'd do a members map on the website, however it was a great way to pinpoint members and their machines so we did not proceed with that function. However I know of one machinery forum that has a members map and it is a major security risk for all the members involved.