May 3, 2014 at 8:28 pm
#7836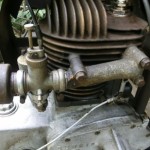 wristpin
Participant
What are the 4 nuts around the circumference of the vaned flywheel for?
If I'm on the same track, they are the ones that hold the ring of cooling fins to the flywheel. Those fins are not very strong so don't be tempted to try and lock the flywheel using them!!
Before attacking that centre bolt with a grinder just make sure that you can lay your hands on a suitable replacement. Might be better to get a nut welded to it.