December 24, 2019 at 5:58 pm
#32976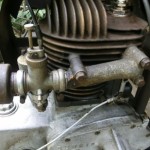 wristpin
Participant
At least twenty years old. Quality kit and actually a simple design and easy but heavy to work on.
Plenty of used parts available and standard off the shelf bearings etc. Should you be tempted to fit a more modern engine, stop and consider that the MAG suited the centrifugal clutch in that it would tick over below the bite point but would recover and not bog down when it was time to move off. Many modern engines didn't like the low rpm needed to disengage the clutch so Ransomes had to fit special build reverse rotation lumps with the drive taken of the half speed cam shaft.
Half choke. Possibly just needs a thorough carburettor clean.