December 21, 2019 at 12:37 pm
#32943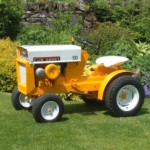 alan
Participant
I have a magazine mention for Holttum in 1954, this shows the name spelt with one 't'. In this advert I think it was perhaps just a simple spelling error. Photo attached.
I have found a 1961 article detailing the life and retirement of Mr Holttum, which mentions Trusty tractors. He was also the designer of many of the items they manufactured.
"A very well-known figure in the garden machinery business, Mr H. B. Holttum, has now retired. He was chairman of H. B. Holttum & Co. Ltd, 408, Cherryhinton Road, Cambridge, for many years and has had strong links with the Agricultural Machinery & Tractor Dealers Association.
After working first in an engineering factory in Birmingham, being apprenticed later to a fruit grower in the Wisbech district, and then doing general farm work for about five years, Mr Holttum started on his own account in 1926, growing fruit and flowers at Willingham, Cambs.
In 1941 he bought a horticultural sundries business in Willingham (was Berrycroft Stores Ltd in 1961) and started selling mechanical aids to market growers, being "Roteho Gem" and "Trusty" tractors. In 1945 he sold the sundries business and bought the Cherryhinton premises. A limited company was formed in 1949 when new works premises with 7000sq ft floor area and two new houses were built. Extensions were made to the company premises in 1957.
Implements manufactured are largely of Mr Holttum's own designs and are approved attachments for various makes of motor cultivators.
Mr Holttum joined the A.M. & T.D.A. in 1947. He formed a horticultural section for it and remains the chairman of the horticultuaral section (in 1961)."