November 21, 2019 at 3:57 pm
#32691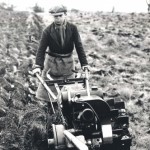 trusty220
Keymaster
The tuning of the carburettor has to be done in sequence and somebody that isn't used to these carbs may not appreciate that.
Firstly you want to screw in the main jet until you feel it stop, then turn it out one turn. Do the same with the slow-running air screw on the side of the barrel. That should be sufficient to get it running.
When it's running, set the throttle on a fast idle (around 1500 revs) so that the majority of the fuel that the engine's running on is going through the main jet. Then wind the main jet out until the engine starts to run rough; turn it back in again until it runs rough again, then turn it out half the distance between these limits. This should then be the ideal setting for the main jet.
For tick-over you want to close the throttle and repeat the process with the airscrew on the side of the barrel, adjusting the slow-running screw on the throttle spindle to achieve a sensible tick-over speed.
Best of luck- as Charlie says, if the choke is opening and closing by itself you really want to stop it. It's not like a car choke, it is purely a cold-starting aid to richen the mixture and the engine will not run with the choke on when it's warm.