November 14, 2019 at 2:35 pm
#32655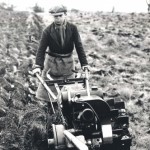 trusty220
Keymaster
We use an ultrasonic cleaner in our workshop but we find that it isn't foolproof. By all means use it but more often than not we find that we have to clean the carbs the old fashioned way with plenty of clean petrol on hand, an airline and even a small piece of soft fuse wire to poke the holes out in extreme cases.
Don't think I'm advising you to poke wire into the holes because that's the easiest way to enlarge them, then it won't work at all! Better to try all other methods and if all else fails try a piece of wire, but make sure it's small diameter soft wire that won't affect the hole size. Certainly don't use gas nozzle reamers like I've seen someone do years ago- the carb was scrap after he'd "cleaned" it!
You may want to have a look at the section that I did on rebuilding a Norton Big Four engine on a Trusty Steed. There are some pictures on there of the carburettor which you may find useful.
Best of luck with it, it sounds like you're nearly there.