March 30, 2014 at 5:08 pm
#7044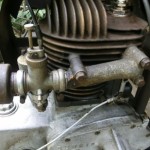 wristpin
Participant
I will do a bit of research on the manufacturing period for your machine.
I acquired the manual that I scanned in around 1979 or 80 when a large local dealership was closing down and all their manuals were dumped in a heap in a corner of the workshop. A deal was done with the liquidator's man on site before a two day auction of stock and equipment. I had an Escort estate at the time and it was two trips with the seats down and headlights pointing skywards!
Anyway, back to the subject. The manual was well used and grubby in 79 and makes reference to Mk2s which suggests that the model may have been around in the 60s or even earlier.