January 12, 2014 at 7:25 pm
#5101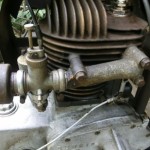 wristpin
Participant
Air cleaner-put it on as it will richen the mixture slightly.
Timing – hopefully there is someone on the forum who knows the precise method for your setup but from distant memory the engine should be rotated until the impulse trips and then turned back to the point at which the contact breakers just starting to open and the timing set then.
As I said, a distant memory and not specific to your engine!