April 30, 2014 at 9:26 pm
#7755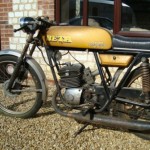 stuart
Participant
Any gaskets required you will have to make yourself.
Bearings and seals can be obtained from your local bearing supplier.
The Brockhouse engine uses a strange governor assembly (theres at least 2 slightly different types used depending on engine serial number) located in its own housing.The fibre "weights" will no doubt be rather worn.I had to make a pair of these for my engine.