May 13, 2014 at 11:02 am
#8040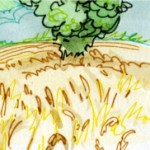 vhgmcbuddy
Member
Well after a bit more tinkering, she's running.
Lots of miss-firing at the moment as I have an oily mix to bed the new rings in, but I have throttle control, and drive to both the wheels and the tines.
Hooray!
Not managed to start when hot yet – I guess that's a 2-stroke thing. Any tips?
Also, what oil should be in the bottom of the air filter cup?
Actually, I've not got a hose on at the moment which probably isn't helping the mixture either.
Jim