May 15, 2014 at 8:56 pm
#8086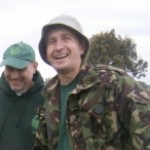 steve-d
Participant
I to have emailed a letter of disapproval, and the. More of us who do it the better as it's more clout,our hobby is growing at such a rate that it's over taking the tractors and to thoughs who came to ardingly last year I think my team and I proved it and we put the tractor boys noses out of joint and put them second best for once,not that it's a competition. The cultivator is now our only magazine dedicated to our hobby and let's see it grow!
Comments made by others about the t and m were also made by me in my email to the ed, ie I'm not interested in ploughing, fed up with reading about fergies and fordsons, for me horticultural means all aspects of our hobby.
So put pen to paper or finger to keyboard and voice your disapproval after all what do we have to do we are a proud and dedicated group and club and for to long we have been pushed to the side line.
I hope you all don't disapprove of my views but that's me I'm afraid being nice doesn't always get you anywhere and having seen peter love at shows like ardingly he will be taking pictures of tractors and as soon as horticultural machines appear no matter how rare he disappears so that shows how interested he is!