November 21, 2019 at 7:53 am
#32688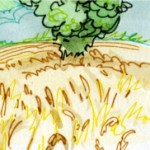 vhgmcbuddy
Member
Hello again, thought I'd give you an update. I have the Gem back from the mechanics now. He had done a great job, it fired up first turn from cold, then we let it settle down (had to adjust the carb again) and tested it out in a nearby field, what a beast of a rotavator!
He did warn me that he was still not happy with the mixture, it's either good at idle or good under load, there's no real sweet spot that I can leave it at, so I should expect to have to play around with the mixture a bit whenever I use it to get the most out of it. Not ideal.
So I got it home and gave it a go again.
It wasn't running so smoothly this time. I set the mixture so it ran a smoothly s possible and started turning over some ground and it started hunting and nearly stalling
, the choke was opening and closing on it's own while this was happening, then it started backfiring quite badly and died on me.
It's stuck in a field now and won't start at all….it's a very expensive gren ornament if I can't get it started, the Joy's of old machinery!!
Any further ideas?
Thanks
Brett.