November 14, 2019 at 9:09 am
#32653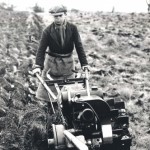 trusty220
Keymaster
I've found that these carbs do block up readily, probably because they have so many fine drillings in so many different places it doesn't take much in the way of debris to start a blockage.
Trouble spots are usually confined to the brass main jet and holder which needs to be removed and thoroughly cleaned, including the cross-drillings in the holder, and also the slow-running jets which are drilled into the inside of the venturi of the carburettor alongside the butterfly; these drillings give a progressive feed of fuel to the engine when the throttle opens. If you don't clean these out you will find that it may not tick-over at all and it will hesitate when the throttle opens. There is a series of galleries on the outside of the carb body behind the slow running mixture screw that will need to be cleaned and the drillings for the slow running jets can be accessed by removing blanking screws that cross this gallery.
Best of luck with it.