April 7, 2014 at 6:06 pm
#7201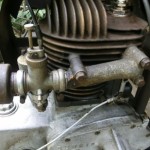 wristpin
Participant
If the engine rotation is counter clockwise when viewed from the impeller I would expect the nut to have a conventional right hand thread.
Ray's suggestion that the two holes are for a puller (any sign of a thread in them?) would imply that it is either keyed to a parallel shaft or may be on a taper.
I suppose that in the absence of a parts list, there is the possibility that the "nut" could be part of the impeller and the whole lot screwed onto the shaft against a shoulder. Seem to recall an Alcon pump with that configuration .