May 28, 2014 at 9:33 pm
#8361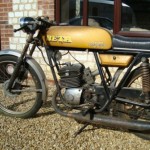 stuart
Participant
A 5hp Wolseley Merry Tiller from 1975 will either be the standard Titan model or the Titan GT (Gear Transmission) model.Both models have a double V-pulley on the engine and on the transmission / chain case.This gives 2 forward speeds (High and Low ratio) on the standard Titan model and 4 speeds plus a reverse on the GT model as this one also has 2 speeds in the transmission.
I have a folder full of MT owners manuals and parts lists but many genuine parts are NLA / Obsolete.
The Titan GT was also available with a 7hp Briggs and Stratton engine.