November 24, 2019 at 6:12 pm
#32731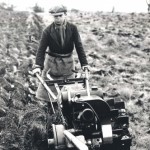 trusty220
Keymaster
I reckon it's of British origin. The head studs are 3/8″ Whitworth (16 threads per inch) at the bottom where they screw into the barrel and 3/8″ BSF (20 threads per inch) at the top where the head nuts screw on.
I can't find any identification on the Wipac CJ magneto, although the master parts listing that I have lists JAP and Petter as the only two makes that use the CJ.
I think I'll have to dig a little deeper and see what's inside the crankcase.