December 18, 2016 at 8:30 pm
#23679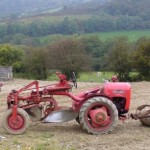 hortiman
Participant
Hello Barryg
I think your best bet is to replace the coil as recommended, the difference can be remarkable, even with a coil that is apparently working.
I would try John Cruse first at 'the mower centre' Vicarage Road, Hailsham, East Sussex first, he is a club member who has vast stocks of our sort of spares, and he has helped me with odd coils over the years. I usually post him the old mag and he tests everything and will return it with any replacements needed, fixed and ready to fit.
He is on 01323 842477 weekdays only/not evenings.
Here is a picture of my 700 with Hirth diesel taken a few years ago, when we had a club display at RHS gardens at Wisley. ( could be time for another display at Wisley Mr Chairman !!