Webb Mowers
October 12, 2019 in Articles, Machinery
I've been reading a Webb lawnmower brochure from 1973, the first page headline is "How to choose the right mower for you and your lawn" which is quite fortuitous as someone recently asked that very statement via email. There are so many variables regarding buying a mower that an answer would run into many pages, however Webb have the answer and to put it bluntly they simply advise that one should buy a Webb, no ifs or buts just buy a Webb, even if one doesn't need a mower still buy a Webb. I think their answers might be a little biased and besides their brochure is 46 years ago but do you think I could give the same advice today? Buy a Webb, you know you want to! There's hundreds on auction sites so many have obviously lasted the test of time and bumped their way across lawns which might actually not have been suitable for a Webb cylinder mower after all – regardless of how amazingly convincing the brochure was at the time.
Marketing garden machinery has come a long way over the years and the Webb brochure is a great example of utter brilliant marketing. Let's have a browse through the brochure which is a snap-shot of 1970's suburbia par excellence.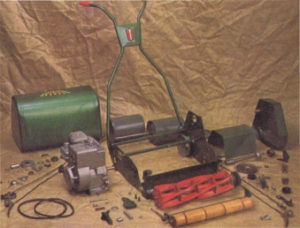 Webb make a very good point that, even in the 1970's, we were already entering the 'throwaway' age and that with proper care and maintenance a Webb mower (indeed any mower) should give years of service. Webb make such a fuss over their excellent construction that there's a photo of the parts that make up a mower, an excellent piece of marketing, just look at the image, right, and be convinced it's a great way to explain their mowers. They also say that the mowers have quality engineering and that they buy their engines from the specialists – it's only a basic Briggs and Stratton but boy can they talk it up.

It's easy to convince you, the buyer, that a Webb is what's required to get a perfect lawn even if it's currently a rough patch that's being grazed by a donkey and two goats, but one needs to convince the entire household that a Webb mower is THE purchase to be made and will outshine anything next doors can buy….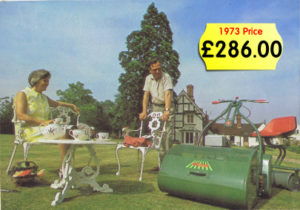 ….The reason is that Webb make several subliminal references to expense which may not go down too well with the person who controls the purse strings. Webbs advice is to "Go for the best you can afford" and "Webb recommended prices allow your dealer to provide….guidance, instruction, preparation and service requirements" i.e this ain't gonna be cheap. In the picture on the right we see the Webb mower being invited to afternoon tea and admired by it's new owners – it's not just a new mower but a piece of one-upmanship over the entire neighbourhood and their new-fangled Flymos. The Webb is something to aspire to. 

The range of mowers in this 1973 brochure were all cylinder and ranged from push models through electric, cordless, petrol and ride-on petrol versions all with superb build quality. Webb also sold a few other garden items in this 1973 catalogue, what could they tempt you to buy?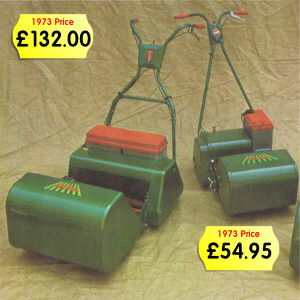 Let us visit some old technology which is now new technology that hasn't progressed much from the old technology and get ourselves a battery mower to cut down on the use of petrol. The largest 18″ deluxe model which is the left mower in the picture was £132.00 in 1973, approx 30% more than the petrol version. The smallest model was a 12″ cut and priced £54.95 (prices inc tax).

All the battery mowers were 12 volt with two-speed motors and varied in usage from 1 hour 10 minutes to 2 hours depending on the chosen model. Charging could take between 24 and 30 long hours which works out between 3 and 4 minutes mowing for each hour of charging depending on the model. These battery mowers would no doubt always be destined for the smaller domestic gardens, in which case why not buy the plug in mains powered model which was a similar price? Webb sold an extra 100′ extension lead for only £10.74 so that's plenty for most gardens.

The first Webb battery mower I ever saw was being used in a garden in Kirkby Lonsdale (Cumbia/Yorkshire border) in the early 1990's, it would have had a few years age by then. It was mowing a small, perfectly shaped, weed free lawn outside a perfectly formed retirement bungalow by a perfectly presented retired gentleman. I wonder if any battery mowers are still in use today? I have one but it's no longer used.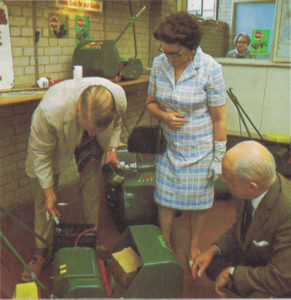 The next models are the petrol powered stuff, this is where one can be accused of wanting a mower purely because it has an engine. As can be seen in the image the gentleman has been accompanied to the dealership to ensure money isn't squandered on unnecessary and frivolous purchases, honestly, as if anyone would buy stuff on a whim to hoard in the shed. Besides, there's a really scary receptionist lurking in the background to keep things in order. 

The run-of-the-mill shed filling mowers that are most popular will be the 14″ and 18″  Briggs powered machines as pictured below. The main difference I can see between the basic and deluxe models is that one has 82 cuts per yard and the other 102 cuts and both with the six bladed cylinder. There's only eleven pounds in price between the two.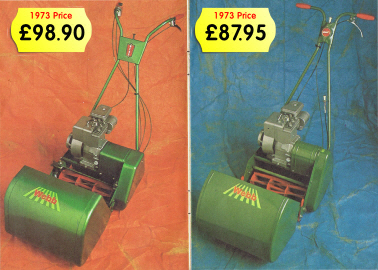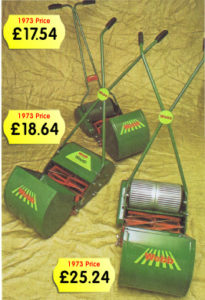 For utter devilment our gentleman in the dealership image could be forced by his female companion to have a hand-push mower, that'd teach him to look out of the kitchen window and daydream for a petrol powered machine instead of getting on with doing the washing-up at home. The push mower range consisted of the 10″ Whippet, 12″ Wasp and 12″ Witch. Respectively priced at £17.54, £18.64 and £25.24 inc tax. 

These mowers would be the staple of the small domestic lawn and had been made and sold for decades, no wonder they appear regularly for sale as thousands must have been sold. The 10″ Whippet was the lightweight mower, they then describe the Wasp model as 'Robust' (as if the Whippet was somehow inferior) for the extra £1 plus tax the better Wasp would be the more savvy purchase as both give the same 45 cuts per yard. The third model, the Witch, gives a 'superfine finish' with 60 cuts per yard. 

Of course the one item that would look great on the lawn or out-front on the driveway in full view of the neighbours would be the 24″ Webb ride-on mower as shown in the tea-party image earlier in this article. This mower is described as being a 'lawn-cruiser' and had an impressive 80 cuts per yard. The trailed seat attachment could be unhitched in 10 seconds and then the mower used as a standard walk-behind cylinder machine. It's a machine not to just give a good cut of the lawn but also a machine to impress – the Range Rover of the domestic lawn mowing world of the time perhaps. I once scrapped one of these mowers, it's mowing capabilities beyond repair. It's engine found it's way onto another mower where it still works and the foot rests fitted perfectly onto a Mowett Mustang ride-on mower. Ironically the foot rests from this scrap machine were of a staggeringly better quality than the tin-plate Mowett ever was!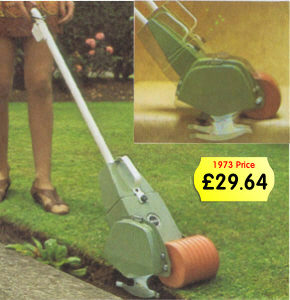 Once the lawn is cut then it's time to do the edges and Webb come to the rescue with a battery-operated lawn edger. This talented machine has a 6 volt battery that can trim for about 45 minutes – about 1200 yards of lawn edges. It has a 7″ blade that revolves at 5000 rpm giving about 10,000 cuts per minute. Apparently it can trim lawn edges better than they have ever been trimmed before – I think some professionally trained groundsman might have disagreed with that statement but they probably agree that it was a lot easier than using long-handled shears. 
Two other items that Webb were selling at the time were from the Little Wonder tools range as pictured below. The Little Wonder edger and trimmer which was an electric strimmer and available as either 12 volt battery powered or 240 mains. The Little Wonder hedge cutters were 240 volt mains or 110 volt from a generator, 12 volt battery, or 1 hp, 2 stroke petrol. 
A couple of other brochures at the time were for the Webb Wizard mowers, advertised as 'Low cost mowing for the small lawn' although from experience the Wizard range were not a patch on the items discussed in this article. At the other end of the scale was the 'Power for the professionals' a range of mowers specially suited to the professional and owners of large gardens, that'd certainly impress the neighbours!
Note: Prices include tax at the specified rate in 1973.