Ginge mowers and tools
November 13, 2017 in Articles, Machinery
But Ginge in the UK has thankfully left a paper trail of adverts and news articles from 1967 to 1978 before gently taking a back seat.
All manufacturers regardless of the machines or tools they are making seem to have a pretty good and ambitious start and Ginge were no different. Although Ginge came to the UK and then silently went leaving behind a few mowers and little evidence of being here, they had actually been making mowers for a long time and obviously knew what they were doing. In the Danish Foreign Office Journal of 1951 they are stated as making '
a mower powered by 1.5hp, 4 stroke continental engine, oil bath filter, rope starter, auto reverse and magneto ignition
'. I cannot find a picture of that mower but I'm guessing it's a cylinder side-wheel mower (2 wheel). 
It's often difficult to pin down when a manufacturer actually launched their products. Thankfully Ginge must have had a decent secretary or marketing person who sent out some sales copy to a few magazines as the Gardeners Chronicle & New Horticulturalist of 1967 has a glowing  report: '
This year
[1967]
sees the introduction of the Ginge range of lawnmowers and gardening equipment to the UK. Among the mowers is a 12″ machine weighing only 17lbs claimed to be the lightest ever. This is the Ginge Prisma, the recommended retail price of which is only £6 14s 9d including the rust proof 
[plastic?] 
grass collecting box
'. This is followed by the impressively named World's Press, News and Advertisers Review with '
Ginge-Raadvad (UK) LTD
[their full trading name] 
, subsiduary of Danish manufacturer of the Ginge range of lawnmowers and gardening equipment to be launched in the UK in 1967′. 


Handtools

Before getting on to the mowers which Ginge are best known for, they also made a range of handtools and equipment too.
1968 saw the launch of a range of Ginge products. These included the long-handled grass shears (£3 15s), pictured right, also standard grass shears (£1 17s 6d) and a long-handled self-sharpening lawn edger (£3 5s). An additional advert from the same time states there was a garden roller (£6 19s 3d) and a hose reel too. Gardeners Chronicle in 1968 commented that the new hose reel was "
..easy to operate and easy on the eye, rotates smoothly and noiselessly
" 
It's worth mentioning that Ginge thought that  garden hoses were worth exploring. In 1973 Ginge-Raadvad
considered
ordering from a supplier a huge 
80 miles
of reinforced PVC garden hose with a guaranteed life of at least 10 years, this was under consideration for launch in the UK market (Source: Europlastics Monthly, Vol.46).  
The 1972 59R oscillating sprinkler costing £1.98 was claimed to be the cheapest on the market. It watered lawns up to 1900 sq ft and was one of three oscillators, the other two cost £2.45 and £3.15. There was also the '675' Turret sprinkler. 
1974 saw  "
Eight Ginge sprayers, from small household models suitable for window boxes and small garden flowers, right up to super automatic sprayers with capacities of 3, 5 and 7 litres. Ginge trowels, a plant fork, cultivator and weed iron
", (Source: Amateur Gardening 1974)
As we can see Ginge was certainly taking on the domestic garden from all angles and aiming to be in everyone's garden shed and on their lawn too. 
Lawn Mowers


The 1967 launch of the mowers included an advert in Gardeners Chronicle stating that '
You've never seen such  good-looking lawnmowers in your life until you've seen the Ginge range. Never handled such smooth running grass-cropping machines until you've whipped round your lawn with Ginge
'.
Several adverts for Ginge mowers appear in April 1968 in Scotland. This is hardly surprising since Ginge had a newly set up factory at Irvine Industrial Estate, Irvine, Ayrshire, as well as manufacturing mowers at their factory in Copenhagen. There was also an office at Croxley Green, Herefordshire, although the address appears to be a residential street so presumably an outpost office.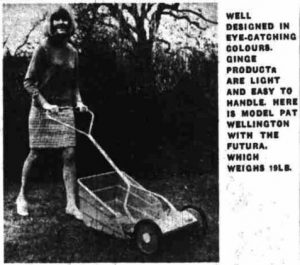 The mowers available were all cylinder mowers, the hand propelled Prisma 12″ (£6.19.9d) and Futura 16″ (£8.19.9d). As shown in the image, right. 
Powered cylinder mowers were the Meridia 18″ (£34.19.9d) and the Atlanta 21″ (£49.19.9d) in the same style as in the image. A year later in 1969 the Meridia and Atlanta prices had increased by £5 each.
According to newspaper reports it was claimed that since the launch of these machines in 1967 they captured 6% of the British lawnmower market in the first twelve months. It was hoped to increase this to 10% with their new lightweight mowers. One of the key selling factors was an "
unconditional guarantee on all lawnmowers and garden equipment against faulty workmanship and defective materials
". (
source
). 
Following in 1970 were two 19″ rotary mowers powered by  4-stroke, 3hp Aspera engines, the mowers differed in engine specifications with one having an auto-choke. Prices were £23 and £28 for the better spec machine. Cutting heights for both were 3/4″, 1 1/2″ and 1 3/4″. 
However ambitious Ginge were with their mowers there's nothing like a bit of comparative testing to spoil the party. Enter one consumer magazine to put the spot light on a range of mowers in 1970. Pitting the Ginge against similar side-wheel cylinder mowers such as one from Gamage, the Suffolk Viceroy MK11, Spinney side wheel mower, Husquvarna from Sweden and the Qualcast B1 was certainly going to cause a squabble on the front lawn. Which was best? 
The comparative tests found that the Gamage, Suffolk Viceroy and Spinney mowers all gave a good cut on short grass and they all easily tackled medium grass in one cut and even did quite well on the long grass. Apparently '
the other mowers
were not quite so good
', oh dear, not the best outcome. Additionally it was found that the rear-mounted grass box on two mowers including the Ginge got in the way of the operators feet. (
1970 magazine reference for mower test
). Good news though was that the build quality of the Ginge stood up to scrutiny and the mower roller survived unscathed in acid tests '
unlike the others
'. 
1970 also saw the MI 04 Orbita mower being as the 'lowest priced four-stroke rotary mower on the UK market' at £23.00. (
source: Surveyor magazine
)
Advertising in
Amateur Gardening
in 1973 '
Ginge have taken the hardwork out of mowing. They've produced a selection of lightweight Hand Mowers, Motor Mowers and Rotary mowers that literally glide through the grass
'.
1974 saw Ginge offering seven lawn mowers: three hand mowers, three motor cylinder mowers and one rotary mower.
In a 1975 copy of the
Agricultural Machinery Journal
, Ginge are reported to still importing the 12″ Prisma mower as well as the Futura and Comet range, they were obviously popular mowers and must have worked well. Also stated is that Ginge were importing three 3.5hp rotary mowers with 15″ and 19″ cuts priced from £59.00 to £78.50. Cylinder mowers also included two 18″ 2hp self propelled mowers priced £94.50 and £105.00 respectively. 
It then all starts to fizzle out just a mere 8 years after an ambitious 1967 start in the UK with 1975 when we start to see a change and 
Sheen of Nottingham
were offering a 3.5hp four-stroke Ginge mower for sale. 
Announced in 1976 the
Agricultural Machinery Journal
state that
'…mower

 maker 

Ginge-

Raadvad has given up its central operation in the UK and appointed four importers to handle the range' .
In 1977 Sheen were reported as having taken on the range of Ginge mowers (Source: 
Agricultural Machinery Journal April 1977) 
and by 1978 Sheen were importing quite a range of Ginge mowers including the handmowers of: HD28 (28cm cut) at £24.50; HD38 (38cm cut) at £28.50; H26 De Luxe 38cm cut at £37.00. All prices included the grassbox. There was also the R48HB 19″ rotary mower with a 3.5hp Briggs and Stratton engine. 
1976 saw the closure of Ginge's Croxley Green office in Herefordshire. But what happened to the Irvine factory? Anyone know?
The Ginge name continued in the UK under presumably different importers. 1992 sees an advert for the Ginge Garden Caddy, an open steel frame on wheels designed for holding garden debris and carrying tools. The caddy had a guide price of £50.00 and was available from Ginge of Denmark. 
And after much research that is the current known story of UK Ginge. 
During the late 1960's a hugely successful Danish manufacturer by the full name of Ginge-Raadvad was launching their range of lawn mowers and garden tools into the UK market. Marketed as Ginge (pronounced Ging-ha) nowadays it is a little known make but had big ambitions with some snazzy sales patter, yet although the name is known there's zilch been written about the company in the UK. It's a bit like tapioca pudding, we know the name and what is but fail miserably at describing it in any meaningful way.