May 4, 2014 at 7:41 am
#7845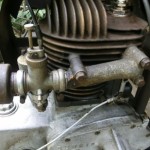 wristpin
Participant
Well, that's progress; sometimes with this old kit "needs must" has to take presidence over "good practice"!
As Charlie says, Villiers coils are a known issue but in fairness, if it is original, it is probably over 50 years old !
Go for a new or rewound coil and not a "new old stock" one that may have hidden internal corrosion. As well as Meetens, Villiers Services and Villiers Parts are both good sources but when comparing prices be aware that some include vat and some don't. For the sake of another £10/12 a new condenser could save a lot of hassle.