March 22, 2014 at 7:39 pm
#6798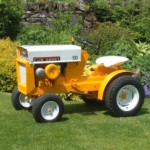 alan
Participant
It would appear that it was Mountfield that did some tinkering with the tractors after they got them and stuck the additional stickers on including two (see photo) that say 'G D Mountfield LTD, Reform Road, Maidenhead, Berkshire'.
So far an inventory of the tractor shows that nothing is missing and all the components are intact and I can probably clean and reuse everything which makes it a bit easier and it keeps it all original. I think I'll restore the tractor to the specification that it was delivered to the customer as that is how it originally was.
The steel work is in good condition and the quality of the components and steel are far better than nearly every tractor I have. Even the many Wheel Horse tractors I have owned looked positively second-rate and low quality compared to the Elec-Trak.
I'm now going to have to sort out all the electrics before I can do anything with the machine – this may be a very long process!