June 29, 2017 at 9:11 am
#25744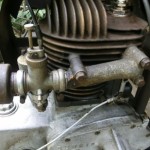 wristpin
Participant
This may be of interest, I hope that you can print it out for easier reading!
https://www.dropbox.com/s/33v45tlt239r0ur/Villiers%20Mk25c%20two-stroke0001.pdf?dl=0
I notice that someone has noted an alteration to the BTDC timing dimension – may be a clue there?
I also see that on page 3 the plug gap is given as the "expected" 25thou but on page 7 18-22thou.
Fair amount of suggestions under "engine four or eight strokes" and "engine lacks power".