April 29, 2017 at 7:00 pm
#25071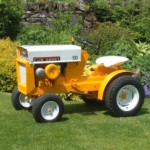 alan
Participant
The Qualcast E30 of my childhood!
I have attached a Flymo and a Qualcast 1970's images from the Argos catalogue.
The Qualcast was £16.25 in 1973 but had risen to £35.49 in the 1978 catalogue.
The 1979 Flymo images has, on the left, a GLE 15″ cut at £63.99. The DLE in the centre of the image has a 12″ cut and was £45.99. Both had 52′ of cable. The Black and Decker mower on the right was a D808 'Super T' and retailed for £32.99.
The Flymos were at the upper end of the price range for electric mowers.
Think the lady in the image had better get some steel toe capped boots on if she's thinking of mowing.